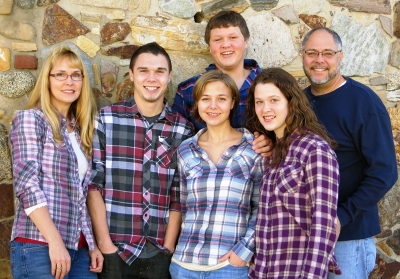 Place of birth:
Anchorage, Alaska

Family information:
Husband: Steve Slater
Children: Seth (21), Savannah (19), Susannah (16), and Sam (13)
Children-in-laws: yet to be discovered and announced!
How did you come to NHC?
Our (missionary) family has been supported by North Hills Church for several years now, and the church has taken several trips to Fiji during our missionary appointment there. Right now, we are excited to be at North Hills while we serve as missionaries in residence at Vanguard University! One of the best parts of that role is being at North Hills Church!

What is your role at NHC?
North Hills Children's Elementary Director


What is the best part about your role?
North Hills Church has an awesome bunch of elementary students that I get to "travel" with! They are the church of today, and the leaders of tomorrow! Being able to participate in their energy and exuberance is one of the neatest parts of my week, because I know God can synthesize all of that and make all sorts of miracles happen! I love the fresh, candid view of life that these kids bring and their level of faith is what I want to marinate in!

Who is your favorite character in the biblical story? Why? How do you identify with him/her?
I've always been fascinated with Joshua. He was Moses' aid or "understudy," and although he would be a great leader in his own right later, he was not afraid to submit to Moses and take orders; he served with such an amazing spirit! Joshua was a warrior, but he was also a worshipper! Ex. 33 shows Joshua lingering at the tent of meeting to seek the face of God. Finally, I love Joshua's stand for God (with Caleb) when he and other select men had been sent to spy out the land of Canaan. Joshua and Caleb were 2 against 10; Joshua declared that the Lord was with them to take the land, and he told the others not to be afraid. Like Joshua, I want to serve humbly, worship and linger in God's presence, and then to be bold for God when it is not the popular consensus!
Who are your favorite sports teams?
Honestly, because I grew up in Wyoming, I'm more acquainted with the wild rodeo! But, I love to watch the sport of rugby and being in Fiji for a decade has made me a fan of the Flying Fijians! Now that we are in SoCal, I am developing a palette for the Angels, especially the rally monkey!


Who is your favorite musical artist or group?
I have always been a fan of Michael W. Smith! I enjoy country music, and classical, but my favorite is the praise and worship genre. One of my favorites way back in the day was a worship experience by Steve Fry, "We are Called." Now, I just about love it all, because worship is an expression of each individual heart or group offering to the Lord! Jesus Culture, Kutless, Christ Tomlin, Laura Story, Hillsong, Planetshakers, and at the top of the list: Fijians singing acapella four part harmony!


What were you like in Junior High? High School?

I was a tomboy. I wore short hair and baseball caps, rode my horse out in the pasture after my chores, loved to sprint and long jump, and did my free time climbing trees. I finally discovered how to be a lady in the later Jr. High years. Boys ceased to be football friends and became interesting personalities for further study. Playing the piano for church and having to wear a dress to be on the platform sort of toned me down.
If you could choose your last meal on earth, what would it be?
Why?
My mom's recipe for shishkabobs, with marinated steak, grilled veggies and the most succulent marinated mushrooms! And, to bring a perfect ending, a big slab of warm blackberry pie with a dollop of vanilla ice cream on top.
If you could have only one book to read, other than the Bible, what would it be?
A children's Newbery award winner called, The Wheel on the School by Meindert DeJong. One small girl poses a question that sets the entire school and village to wondering what could be done for a solution. It shows the power of a small seed of thought that grows into a plethora of activity by a host of individuals engaged in teamwork! This book shows that each individual's input is important to the success of a mission!
What makes you laugh?

Memories, Funny movies especially the candid camera variety, silly moments with friends and family, a lack of sleep, or when I make a fool of myself. My son, Sam is the master at making me laugh.
What makes you cry?
A lack of dark chocolate. Airports. I cry when I see people embracing after having been apart. I cry when I see family members saying goodbye, holding on until the last possible moment. When I see servicemen saluted, when there has been a reconciliation, or when I watch my kids do something beyond themselves. I cry at surprises! I cry when I think of the goodness and mercy of God and that He has enveloped me as His daughter.